KB Surfaces provides high quality stone fabrication, utilizing state-of-the art technology.
Throughout a project, we encourage and support our clients in being educated consumers and a part of the process. In fact we don't just encourage it, we love it! We've often been told that we take substantially more time, care and effort to sit with our customers and explain the process and various options available.
With our team (and their expertise) by your side, you can expect us to walk you through the entire process, answering any questions you might have. We aim to ensure you have the information you need to make choices in the best interest of your project.
Visualizer
Design your dream room with our interactive 3D Visualizer! Create endless possibilities with our inventory in real time.
Sometimes a slab seems perfect when you view the entire slab at once, but then "feels" differently once it's cut up into multiple pieces and installed. This is a costly and difficult problem to try to fix after-the-fact! For instance, a particular slab might be lighter in color in the upper left and grow gradually darker towards the bottom right. When viewed as a whole slab you don't really notice this. But imagine a two piece counter — a sink section on the left separated by a stove with more counter to the right. Now imagine the left piece was cut from the lighter section and the right piece was cut from the darker section. With the stove breaking the visual flow, it can appear as if the two sections of counter were cut from two different, non-matching slabs, when in fact they're not!
This is where KB Surfaces leverages state-of-the-art technology to allow you to visualize what your specific slab will look like when installed as your countertop. It's pretty amazing!
This process utilizes software called Slabsmith.
Using a tripod with a camera and laser, we get an exact digital template of your project space. Next, we shoot photographs of the actual slab you are considering and we digitize them. Combining all of these elements together, we can show you exactly what the countertop would look like if made with that particular slab and installed in your space! This is especially useful for pieces with color variation and visual movement.
Slabsmith technology assists you in selecting the right slab for the job, allowing you to preview what your countertop will look like after installation, so that there are no surprises.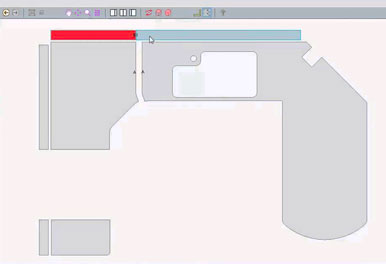 Working with KB Surfaces offers you a larger range of materials than most other local fabricators. Because of a combination of our size, our state-of-the-art equipment and technology, and our breadth of certifications, we have access to more materials than most of our competitors. In fact, we are sought out by many product line manufacturers for our diversity and expertise, such as the Concerto Collection from Caesarstone, and more.
With these broader set of options available to you, we help you pick the right slab that works best for your project.
Whether you are looking for a counter that is whiter, has more or fewer veins, more movement or less movement, etc. - we work with you to design your counter.
Utilizing our advanced technology and industry expertise, we can deliver a wider range of quality edges, seams and finished edging. We have the technology to fabricate countertops without seams, or if your project requires seams we can strategically place the seams to maximize the strength, beauty and durability of your custom countertop.
Once we understand what you're looking for, we can help focus your search and get you looking at the right options. However, if you prefer to shop around yourself, please keep following tips in mind. First, remember that with natural stone, every slab is unique. Therefore, when you visit a slab yard you always want to put that specific slab on hold (which may likely require a deposit) so that they don't sell it to someone else. Next, make sure to tell them the name of your Kitchen & Bath Dealer, and tell them that KB Surfaces will be the fabricator. These might seem like minor details, but they're actually quite important and can save you both time and money when all parties are "on the same page."
Protecting the Beauty of Your Investment
A beautiful, quality countertop is an investment. You can protect that investment by providing proper routine maintenance and care to ensure years of continued beauty and enjoyment.
Basic cleanup can be the same no matter which product you use - it's always best to wipe up food or liquid spills as soon as possible using a soft cloth or paper towel. However, for stubborn stains, what works for one product might be highly detrimental to another. Also, it's good to know whether your product will require extra maintenance, such as using a sealer once or twice a year for maintaining granite.
Before purchasing a countertop product, we recommend being a knowledgeable consumer and researching the product's recommendations for routine cleaning and long term maintenance. Following the manufacturer's maintenance recommendations will help prevent staining and help maintain the long term beauty and durability of your investment.
General Product Care Tips:
Wipe up spills as soon as possible
For basic cleaning, use water and a paper towel or soft cloth to wipe down the counter
Soap and water or a mild detergent for extra cleaning, with a soft cloth or paper towel
Follow the countertop manufacturer's recommendations for routine maintenance
State of the Art Equipment for Quality Results
The videos below demonstrate just a couple of the high-tech saws and fabrication equipment we utilize at KB Surfaces.